I ran in to an issue using Exchange 2010 in a Hybrid setup.
In this case, I am running a fully patched Exchange 2010 SP3 CU12 machine, and I ran the new Hybrid Configuration Wizard. This completed successfully, so I do have a working Hybrid setup and should be able to move mailboxes cross-prem and send and receive mail on both sides.
Next step is to add the Office 365 tenant to my Exchange Management Console. To do this, I right-click the 'Microsoft Exchange' tree and click the 'add new forest' link. After naming the forest and selecting the 'Exchange Online' option for the remote PowerShell instance, I need to enter the credentials for my tenant. When validating, the wizard throws an error.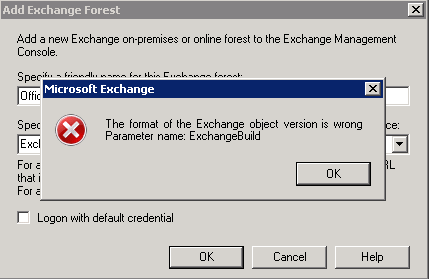 'The format of the Exchange object version is wrong. Parameter name: ExchangeBuild'.
After some searching, I found other people running into the same problem. Some get the error when trying to open an existing instance in EMC, some get it when trying to create a new one, like me. For those who get the error on an existing instance, some users report that deleting and re-adding the instance solves the problem. Others can't re-add the instance after deleting it, facing the same error as me. A MSFT employee responded in the thread, stating that the problem has been found and the Exchange team is working on resolving it. For now, there isn't a resolution.
The issue is also mentioned on support.microsoft.com, but aside from two obvious workarounds, there isn't a solution yet.
For creating the hybrid setup, you can use the new HCW without running in to the issue. For viewing properties for users that are homed on Exchange Online in your hybrid scenario, you can use the Exchange Online console online. However, for the time being, there isn't a supported way to modify these properties in this scenario.
Edit 3-9-2016: The issue seems to be resolved.